These pages contain a selection of pieces made over the years by me, Jo, aka Christen Jo Fraser... from the very basic to the way over the top!!!!
Nouveau Passions
This piece won the Beads Etc Magazine Competition
Australian Wirework Artist of the Year 2008
It was a challenge for me that year to learn the technique of wire weaving used here, which I accomplished in two crazy weeks before the deadline.
I made four pieces in that two week period. This was the first. The name was very significant, both the link with Art Nouveau,
a favourite style of mine and the fact that I was at a turning point in my life and deciding to spend more time on my Jewellery...my new passions.
Jacobean Lace, the second, was born from the idea that this one gave me of dark oak, my grandmother's Tudor/Jacobean Furniture and the Art Nouveau feel of this piece.That won the Reader's Choice award.
It was after completing these two pieces that I realised that Jacobean motifs have reoccurred in my work for years. I entered a Jacobean Embroidered cushion I had done as a teenager into the following Canberra Show and won a second ...I had to get the cat fur dry cleaned off it first!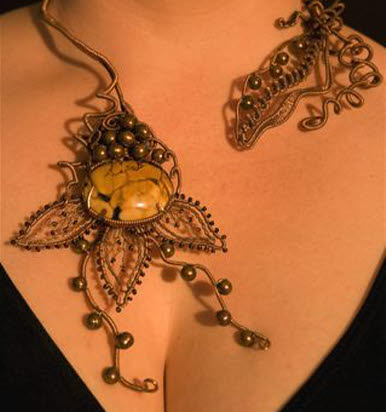 The third piece, Crystal Magic, that won the Silver Artist of the Year 2008 Award was actually made up of scraps I had (never throw anything out!) and put together at the last minute.
The Fourth piece I quite liked... a copper wrapped onyx cabochon with Swarovski Crystals, but it was a little too simple to get a look in. However I sold it to a person who saw it at the Stitches and Craft Show Exhibition, so someone else liked it other then me.
I really have no idea where all that drive and inspiration came from in those two weeks. But somehow it worked that year.
I need to thank Colleen for the use of her magnificent 'neckline' and her cameraman husband John Lafferty for these two photos.